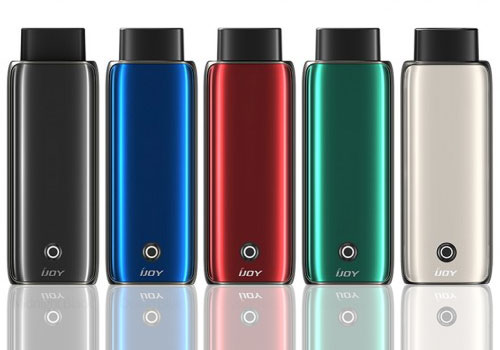 There's no denying that pod kits such as iJoy Neptune are becoming a big part of the vaping market. The iJoy Neptune is a perfect example of how pod vaporizers are evolving. With its stylish and functional design, it's easy to see why so many people are turning to refillable pod systems.
The iJoy Neptune is operated via a single button on the front of the case, which turns the vaporizer on or off with five clicks. You can also switch your voltages with three clicks using the same button.
The pods on the iJoy Neptune simply click into place and are held in position with magnets. They're quite strong, so you don't have to worry about the pod coming loose in your pocket or bag. It's also draw-activated, which means you just pick it up and inhale on the mouthpiece to make it start producing vapor.
The internal battery has a capacity of 650mAh, which will give you a healthy amount of vaping before you'll need to recharge. When it comes time to recharge, it can be done quickly and easily via the supplied USB cable.
The pods on the iJoy Neptune are refillable and feature a basic yet simple design that prevents any spills or leakage issues, which are a problem for some pod systems. It has an e-liquid capacity of 1.8ml, and the built-in coils resistance is 1.2ohm. It's a great setup for someone that's looking to make the switch from smoking traditional cigarettes to e-cigarettes.
Despite the coil and pos system on the iJoy Neptune being non-adjustable, the manufacturer has done a great job with the airflow and vapor production. It's a great pod system for those MTL vapers.
The overall appearance of the iJoy Neptune Pod System is excellent. The durable glass panels look and feel amazing in your hand. It's small enough to easily slip into your pocket and comfortable enough that it feels good in your hand while you're vaping with it.
iJoy Neptune Specifications:
Size: 86 x 31 x 14mm
Battery Capacity: 650mAh
Battery Type: Built-in single 102428 battery
Max Power: 12W
Output Voltage: 3.5V,3.6V,3.7V
Coil Resistance: 1.2ohm
E-juice Capacity: 1.8ml
Fill Type: Easy Top Refill
Material: Zinc alloy & Curved glass & PCTG
Colors: Pearl White, Midnight Black, Ocean Blue, Crystal Red, and Jade Green
Package Included:
IJOY NEPTUNE Device
IJOY NEPTUNE Pod
Type-C Cable
Manual
Warranty Card